Our Unique Process
Our unique process stems from our 45 years of building experience spending sixteen years in the structural steel industry and twenty-nine years in design build general construction. With the insight gathered from that experience in addition to our twenty years in log home construction, we have a myriad of benefits to offer you in the building of your home.
We offer a unique labeled product using only western hemlock logs, Douglas fir framing and spruce floor and roof deck - NO PINE.
Our attention to detail in total planning and our timely service through total construction is unparalleled in the industry, producing a product of extremely high quality.
Our very "Personal Approach To Log Homes" develops life log friends, some of whom can be visited in our testimonials section.
We build every home, as it is our very own. Whose home is more important than yours and mine?
Meet Ben Vaughn
Ben Vaughn, a licensed contractor and log home erector since 1995, launched CCH of Tennessee in late 2006 forming a very unique relationship with Pete and Country Comfort Homes. Ben's "hands-on" approach utilizes his extensive knowledge and experience with log home erection and the total home building process. Ben specializes in building custom log homes. His log home erection experience encompasses custom log and hybrid construction to roof dry-in anywhere as well as turnkey completion of homes in Eastern Tennessee.
Ben and Pete are always on site during log package erection with the same erection crew, same labeled product and the same "Personal Approach" to your home.
Classic Metal Roofing
Click to learn more about our aluminum shake shingle roof.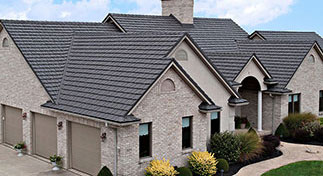 Timber Frame Structures
Click to learn more about our timber frame structures.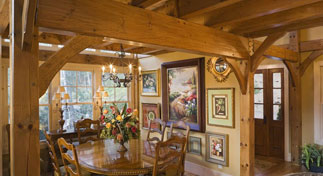 The 7 Steps Of Our
Construction Process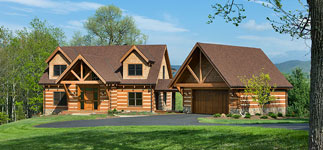 Click through the steps below to see how this custom log home was constructed:
Step 1: Prepare foundation/sub-flooring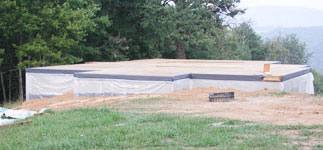 CCH general contractor puts foundation, waterproofing and sub-floor in place.
Step 2: Erect log home exterior walls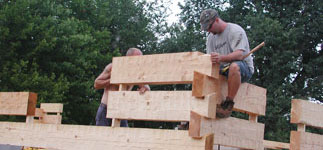 Trucks are unloaded and erection of log walls is begun by Ben Vaughn and the CCH erection crew.
Step 3: Heavy timber second floor framing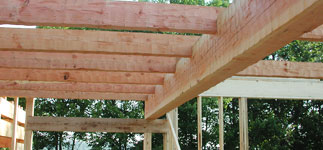 Heavy timber second floor framing is erected and 2 x 6 floor deck is installed by CCH erection crew.
Step 4: Heavy timber rafter system
Heavy timber rafter system, 2 x 6 deck and insulation panels are erected through roof dry-in by CCH crew.
Step 5: Conventional construction steps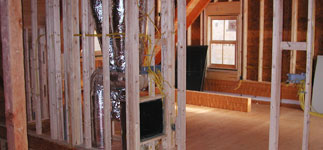 Conventional carpentry and installation of mechanical, electrical and plumbing rough-in are completed.
Step 6: Exterior home finishing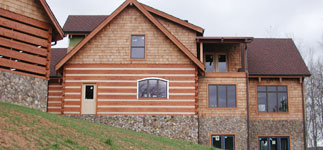 Exterior finishes installed by our general contractor with stain and chinking applied under CCH oversight.
Step 7: Interior home finishing
CCH general contractor installs cabinets, flooring, fixtures, interior trims and finishes.