Timber Frame Structures - Hearthstone Homes
Through my association with Hearthstone Homes of Dandridge, Tennessee Country Comfort Homes now has the capability of providing the finest in timber frame structures. The same Country Comfort Homes "Personal Approach" that our log home customers have come to expect is now extended into timber frame construction. Through computer modeling and Computer Numeric Controlled manufacturing a mortis and tenon structure can be produced with the highest degree of quality and the closest of tolerances in the industry.
The Country Comfort Homes thread of superior planning, attention to detail and personal attention is woven into every timber frame project.
The timber frame trade and tradition nearly died in the early 1900's as steel mills, high-production saw mills, wire nails and mass production psychology replaced the art and craft of timber framing, just as that attitude displaced many of our other master trades. Thankfully, a certain core of our population has rebelled against mass production mania and sterile products without soul or character.
Hearthstone and Country Comfort Homes believe that an authentic, distinctive lifestyle in concert with a natural environment is the best product any company can offer.
Huge timbers are transformed from rough lumber to the intricate finished framework of a Hearthstone Timber Frame home - with joinery detail often seen in the finest of furniture. The joinery itself is the heart of the system. Our joinery methods and types are taken from the living history books - those durable structures that have withstood centuries of dependable service.
For more information visit Hearthstone Homes.
If you would like to contact us, please complete the form below or call us at 336-830-4445.
Contact Information
42 New River Drive Sparta, NC 28675
336-372-1501
336-830-4445
Photo Gallery
Click the image to view a photo gallery.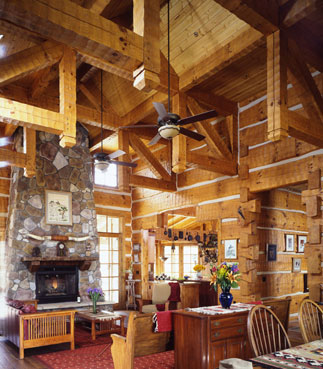 Classic Metal Roofing
Click to learn more about our aluminum shake shingle roof.