Working Vacation
Featured in Log Homes Illustrated - July 2007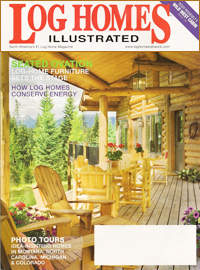 If there's one thing Pete and Jackie Pyles are passionate about, it's log homes. They not only live in one, but also enjoy helping others realize their own log-home dreams. The Pyleses stumbled into log homes by accident. They were living in a subdivision in Winston-Salem, North Carolina, and purchased 25 acres on the Little Yadkin River in Tobaccoville. The property enjoys total seclusion, even though it's only 10 minutes from a shopping center. They had designed a farmhouse to build on their land and decided to spend a weekend in the Tennessee Mountains before starting construction.
Just for fun, they stopped to tour a log-home model. "Once we were inside, I looked at Jackie. We both came to the same conclusion: We had made a mistake," Pete recalls. "As soon as we returned home, we called our contractor and put the project on hold."
They spent the next three years in those pre-Internet days searching for the right log-home company. They finally selected Appalachian Log Homes, favoring the company's dovetail notches and Western hemlock timbers. Having the option of hand-hewn or smooth-planed log finishes, the Pyleses chose hand hewn for a more traditional look and feel.
Jackie and Pete drew up the preliminary plans for a 28-by-40 foot home with a loft. As they massaged their design, however, they added a 12-by 18- sunroom on the back and a 12-by-17 master bath on the east end. "At the time, we absolutely were adamant that we have large rooms." Pete recalls. "The home we were living in had small baths and hallways. We didn't want to waste the space in our log home with hallways, so we designed the 2,300-square-foot home with an open floor plan."
Their goal in using full 6-by-12-inch, flat-faced logs, the youngest of which is 185 years old, was to have the home look like it had stood on the site for decades. The first-floor entry leads directly into the great room, whose adjacent kitchen and dining room are separated by an island and lead to the sunroom. The master suite is to the left of the great room. On the second level are one bedroom and a bath. The loft serves as a home-entertainment center.
When construction began, Pete and Jackie hadn't engaged a stonemason for their fireplace. John Everheart, who was completing their foundation, asked if he could give it a try. He built a test panel, which impressed the Pyleses, and the job was his. He selected each piece of Tennessee fieldstone and matched the color of the mortar to the stone. "John is more of an artist than a mason," Pete says. "The result is magnificent."
Pete should know. His construction experience dates to when he was a boy helping his grandfather and father build homes in the region. "Jackie suggested to me that there was an opening in the log-home business for someone who really cares about and knows construction," Pete recalls. Her comment led to the couple's launching Country Comfort Homes, which for the past 18 years has been an authorized dealer for Appalachian Log Homes.
One consistent failing Pete notices is that prospective log-home owners usually have a general idea what they want, but they don't take the time to consider the placement of their furniture when they're designing their home. "We ask our customers to measure their furniture and give us an idea of how they might like it arranged," he says. "From there, we can put the 'paper-doll furnishings' on the computerized floor plan to determine where to place the windows, doors, overhead fixtures and electrical outlets."
As for their own furniture, he says, "Jackie and I adhere to the philosophy that it is important to decorate to the logs. We have a rustic-style home and have incorporated many traditional hand-made furnishings and added the country rustic accents. We didn't have any specific period or design criteria in mind. It just had to look right."
Because their business keeps them busy, Jackie and Pete are more likely to eat out than cook. When they do stay home, their daughter and son-in-law, Angie and Greg Comer, and 6-year-old granddaughter, Gracie, often join them. "It's great having our family live only 12 miles away in their own 8-year-old log home," Pete says. "We are able to see them frequently, and Gracie's my fishing buddy."
As fond as Jackie and Pete are of their log home, they find their market is moving into the mountain country. As a result, they are planning to build a model home overlooking the New River, close to Sparta, North Carolina. Since they live in what they build, that means they'll soon be selling their cherished home and relocating. "Living in this home has been like being on vacation all of the time," Pete observes. "We are in such a tranquil setting, and it is so ultra-quiet. We are surrounded by natural products, and that makes us feel grounded to nature and closer to God. People look up at the open spaces in this home and ask me to just let them sit there for a few moments and take it all in. They tell us how much they admire the high level of comfort in this home."