A New View
Featured in Log Home Living - Fall 2008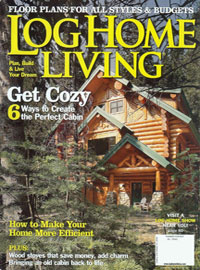 If anyone understands the value of waterfront property, it's Rachel and Sandy Wood. After all, their primary home is located in Wilmington, North Carolina, a popular resort city along the Atlantic seaboard. When the Woods decided to build a log vacation retreat in their home state, however, they opted instead for a spot in the mountains, on the banks of the sparkling New river.
Located near the north-central town of Sparta, the Woods' home sits on a shady forested lot with an incredible view of the river and surrounding hills. "We've always loved log cabins," Rachel says. "We knew a log home would fit in with the mountains and the land, which are just beautiful."
Working with Pete Pyles, owner of Sparta-based Country Comfort Homes Inc., the Woods ultimately decided on a customized floor plan from Appalachian Log Homes. The 2,200 square-foot design features four bedrooms-one on the main level and the rest on the second level-as well as a detached garage and large front and back porches. Dormers on both sides of the house expand the living area upstairs.
"People who build log homes are unique individuals, and they're usually looking for something custom, as opposed to the cookie-cutter houses they've lived in for years," Pete says. "Lifestyles and space requirements are totally different, so we customized these plans to their needs. We work hard to hide mechanical, electrical and plumbing, too."
The house was built with 6-by-12inch, square milled logs that were hand-hewn, giving the rustic appearance of a time-honored cabin. Flooring is made of antique heart pine-which imbues the interior with "richness and character," Sandy says-while a fieldstone fireplace is the focal point of the living area. A basement beneath the garage maximizes storage potential.
For the décor, the Woods worked to complement the rustic walls with sturdy, simple pieces, such as aspen-log bed frames and dressers, cherry cabinets and leather couches. Outside, stained log chairs, rockers and tables are accented by green cushions that mimic the verdant landscape.
The back deck, which leads down to a gazebo, is the Woods' favorite spot on the property. This is where the couple's three daughters and other family members and friends congregate during vacations. "An extended deck and gazebo aren't that common in these kinds of homes," says Allen Lankford of the W.A. Lankford Company, a contractor who frequently partners with Pete to build log homes. "It's a beautiful place, and my crew loved working there."
Sandy agrees. "The sound of the river is always in the background," he says. "The view never ceases to captivate us, no matter the season."