A Family Affair
Featured in Log Home Design Ideas
November 2002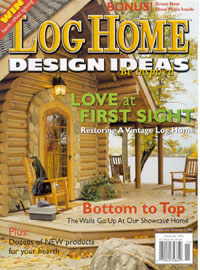 North Carolinians Greg and Angie Comer built their first log home exactly the way they wanted - with a little help from family and friends. Families who build together stay together. Just ask Greg and Angie Comer. The young couple looked no further than Angie's father, Pete Pyles, for assistance when building their first log home in 1997. The owner of Country Comfort Homes Inc., an Appalachian Log Homes dealer in Tobaccoville, North Carolina, Pete eagerly lent a hand.
"Being able to help plan and build their home was really great because not many fathers have a chance to do something like this," Pyles says. "Anyone can sell a package, but you need to know how it works. I'm a building junkie - - I'm very finicky and detail-oriented. My philosophy is it's either perfect or wrong. If I don't like it, I can't expect others to like it."
Pyles specializes in square log construction. He says his homes work best in climates with high humidity and dramatic temperature changes. As the logs expand and contract, they move more easily than round logs. And homeowners like the ease in which they can hang wall and window treatments.
For Greg and Angie, Pete's work ethic and 20 years of expertise alleviated the jitters many first-home builders experience.
"I've talked with many people who didn't get everything they wanted when building their homes," Greg says. "We relied on Pete to guide us in the right direction. As a dealer and a builder, he walks you through the entire process. He went through our plans several times to make sure we had exactly what we wanted."
Pete joined Greg and Angie as they toured various homes to gauge floor plans and design options. The couple pointed out features that caught their eye, and then Pete customized a floor plan for a two-story, 2,400 square foot log home. Design and planning took about six months.
Finding the perfect spot was a breeze. Greg's father owned a lot in a beautiful old wooded subdivision in Pfafftown, just outside Winston-Salem. Greg and his family own an underground utility business, so they had the heavy equipment needed to prep the site, which veered downhill 45 degrees. Every weekend for a month, they cleared trees and excavated dirt from the front of the property to build up the back, which needed eight more feet to support a retaining wall and the foundation. Another chore: running sewer pipe 700 feet downhill to avoid digging a septic tank.
The Comers wanted their house to stand out, so they designed an A-frame structure that would be made of square old-growth western hemlock logs, faux stone and batten board siding. The design also features dormers, a full basement and a wraparound porch. Rain stalled construction for six months. The couple finally moved in May 1999.
Even seasoned builders can learn new tricks. Pete Pyles tested untried designs on the log home built by his daughter and son-in-law, Greg and Angie Comer.
To fulfill the couple's wish for space and to add architectural pizzazz, Pete recessed a wall three feet in the master bath so the lavatories projected slightly into the sunroom. Space gained, Pete realized the design served another useful purpose.
"It's always a challenge to hide the heating and cooling ductwork," he says, "but the three feet gave us enough space to hide the ductwork and plumbing, which runs from the basement up. You don't even know it's there."
Another unique aspect of the Comer home is the exterior design. The rear features batten board siding rather than traditional timbers and dormers at each end allow for more natural lighting and provide an interesting roofline.
"You typically don't see this design on standard A-frames," Pyles says. "The ceiling in the kitchen and sunroom slopes from 8 feet to 13 feet. I like it b because the change of angles and textures gives your eyes something extra to look at."
Greg and Angie wanted space their young family could grow into. After living in a cramped townhouse, they craved large, open, bright rooms with spacious walk-in closets and a kitchen featuring a roomy pantry. Pete suggested a mix of logs, drywall and lighting to add warmth, texture and brightness throughout.
The second-floor loft serves as a cozy family room, complete with a built-in entertainment system and plush furniture. Natural light from skylights reflects off the drywall, exposed beams and light carpeting.
Also upstairs is 2-year-old daughter Gracie's bedroom, with its large walk-in closet and half-enclosed bath. A 4-foot half-wall partitions the bath area, offering privacy yet openness to the room, which measures the width of the house. An impressive 5-by-3 custom-made beveled glass window, salvaged from a local building, creates a dazzling prismatic effect when the sun hits it. Greg's grandfather refinished the window's wooden frame.
Downstairs in the master bath, Pete tried a new approach to creating extra space b y extending a wall three feet for the dual his-and-her lavatories. The wood, natural-colored tiles and carpeting, and indirect window light mixes with overhead fixtures, wall sconces and table lamps to create inviting warmth throughout the master suite.
Angie particularly enjoys her large kitchen/family area, with its separate dining area and adjacent sunroom. Friends and family can lounge in comfortable seating, watch TV or take in the breathtaking vista.
The busy couple says their home is a work in progress. For now the unfinished basement serves as a two-car garage, storage and laundry facility and Greg can clean up in its spare bathroom before entering the house. To satisfy local code regulations for garage/basement facilities, the couple opted to install a fireproof ceiling rather than a firewall. Greg says one of these days they might finish the space and add extra rooms.
"A lot of homeowners are never 100 percent sure when planning, but we wanted something different," says Angie, a pediatric nurse. "We never worried while designing this house because Dad knows the product. He was very helpful in giving us ideas and recommending options."
With Greg busy serving as general contractor and completing such details as chinking the entire house, Angie was left to decorate. She enlisted her mother, Jackie, for help.
Over the years, Angie had collected pictures of home furnishing and decorations. A Better Homes & Gardens feature inspired the green kitchen cabinets and white countertops. "I caught a lot of grief at first from Greg, but he liked them once the kitchen was finished," she says. "They add color and give your eye a focal point."
Personal touches abound with such eye-catching handiwork as custom-made wood furniture and accents. Family friend and carpenter Chris Baker made the entertainment center in the loft, Gracie's armoire and bathroom cabinets, plus the shelving, trim work and cabinets in the great room and master suite. The craftsmanship contrasts nicely with the logs. The walls, handmade mantel, faux fireplace stone and square, dark pine flooring in the great room create a rich, inviting ambiance.
"We used tongue and groove pine wood planks with antique nails on the floors in the great room and dining room to give them an old-time look and feel," Greg says. "I think it goes nice with Angie's decorating."
Pete agrees, saying the first-time homebuilders acted like pros. "I like the warmth - you walk in and it just feels good," he says. "There's so much natural material and it goes well with the soft fabrics and furniture. The kids have created a home they'll enjoy for years."
Looking back on their building experience, the Comers credit Pete with giving them the confidence and resources to create exactly what they envisioned. "The whole experience brought us closer together," Angie says. "Dad dedicated a lot of time to make sure it turned out just right. It made us more comfortable having him involved because we knew it would get done - and get done right."