History Revisited
Featured in Country's Best Log Homes
July 2005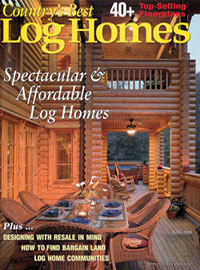 Childhood memories of a one-room log cabin led a North Carolina couple to their mountaintop dream home. Back in the Civil War days, the aptly named Iron Mountain in Asheboro was mined for the metal needed to make bullets. But by the late 20th century, it looked like a good homebuilding site to Tom and Peggy Britt. Natives of this central North Carolina area, they were living in a 1,400-square-foot house nearby and thinking about semi-retirement and a place to put all the antiques they had collected. When a parcel of land stretching up to the top of the mountain became available, Tom bought the 120 acres within hours, and he and Peggy began to make plans for their ideal log home. For Tom, it would also be revisiting the past.
"Tom grew up in a log cabin and we always talked about building our own log house someday," says Peggy. Probably not many people start out in a one-room cabin and move up to a spacious 5,000-square-foot log home filled with antiques. Still, the actual process of getting the house built took time and determination. Over the years, Tom had developed a few ideas and made some sketches. After selling most of his newly bought land, he kept 50 acres at the top for the Britt's future home. A paved road was built where none existed, and old miners' diggings were filled in. Then Peggy and Tom looked around for the right log home producer.
The one-room cabin of Tom's childhood (cooking was done in a lean-to kitchen) was now only a memory, but it retained its appeal. As Peggy says, "There's something warm and homey about a log house." Now they were ready for comfort, space, and amenities. On a trip to Tennessee, Peggy and Tom saw a house that had the look they wanted. The log home company, Appalachian Log Homes, had a representative in their area, Pete Pyles of Country Comfort Homes. When they saw Pete's own model home in Tobaccoville, they were sold. They would have the same rugged square-cut log and chinking, a style historically authentic in this region.
Pete Pyles got into the log home business, he says, when he decided to build one himself 15 years ago. With his knowledge of construction a commitment to doing things "the best way possible," he offered guidance to the Britts at every stage. A visit to the Iron Mountain site resulted in setting the exact location for the future home. Then came preliminary drawings.
Although Appalachian Log Homes has many standard plans, Tom and Peggy, like most people, wanted a home customized to their personal preferences. After many revisions and additions, a three-story plan was developed with porches on three sides to take in all the views. The most innovative addition was the installation of an elevator for all three levels. Currently, it's used to move some of the heavier pieces of furniture that Peggy and Tom have acquired in their antique-hunting forays. It's handy for carting groceries down from the kitchen to parties on the lower level and, when needed, it's there for people transport.
When the foundation was completed, Appalachian Log Homes brought in the western hemlock logs and erected the basic structure. "By using just the heartwood, you get minimal shrinkage," says Pete, "and the chinking we use provides the flexibilty needed to stay weathertight with atmospheric changes."
Another important feature of the house is a curved stairway that Tom and Peggy specified after seeing one in a Georgia interior. With its airy, graceful lines, it's an appealing addition to the striking good looks of the great room. Rafters soar to a height of 32 feet at ceiling peak. A tall chimney piece of Tennessee fieldstone is accented with a large round millstone found at a former mill site.
A big front porch is the first sign of the welcoming feeling the house offers. Coming up the curved driveway, a visitor sees through the trees to a covered porch running the length of the house. (The porches and decks add nearly 230 feet of outdoor living space.) A large foyer is full of surprises, starting with a massive 18th-centurey sideboard set with vintage soda fountain equipment and old drugstore posters. Heart-shaped wire chairs and a tiny table complete the ice cream parlor look of yesteryear.
The great room just beyond combines modern comfort with the look of a grand lodge. A deep leather sofa and handsome wing chairs invite relaxation while the eye travels up to a remarkable chandelier. "It's an old oil lamp fixture we found in New Orleans," says Peggy. "We had to have it, so we brought it back and had it wired."
Double doors lead to a formal dining room and a bright, open kitchen. A unique breakfast table with attached seats has a colorful glass lamp directly overhead. Pete Pyles, who planned the wiring and plumbing as part of the design process, stresses the importance of location key furnishings before the building starts: "That way, the people living in the house get exactly the functions they need - - wiring in a beam, for instance - - and the workings you don't want to see are hidden." A small mudroom next to the kitchen connects with a breezeway to the two-car garage.
A bedroom wing and the elevator occupy the opposite side of this main level. The corner master bedroom adjoins a full bathroom with double sinks; there's a second bedroom and half-bathroom. A rear porch standing 20 feet above the sloping ground provides views of the valley.
Tom and Peggy, who know the area thoroughly, was able to find a source of flooring material to enhance the historic look of the house. Pine planks from old cotton mills were retrieved and split to different widths to make floor-boards. Some have their old nail holes still intact. Rugs with Oriental patterns make a perfect complement.
Up the curving staircase are a loft with a bedroom on either side, two bathrooms, and plenty of closet and storage space. Off each bedroom (charmingly furnished with early American pieces) is a small balcony, ideal for enjoying views of the scenic countryside.
The basement level, running the full length and width of the house, was constructed with 13-foot-high ceilings to accommodate the oversized antique furniture that finds its way to the Britt house. Peggy's eye for good pieces had led to a going business. A large family room with a fireplace makes an ideal party setting for visiting children and grandchildren. Last Christmas, Peggy found room for five decorated Christmas trees while Tom cooked the chocolate gravy and biscuits he liked as a boy.
Energy-wise planning went into the heating design. Three systems function independently, with the main floor unit being sufficient most of the time. Each upstairs bedroom has a switch-on unit for both heat and air-conditioning. Two propane tanks in the ground assure an ample supply of fuel. In this moderate climate, there's good insulation from a metal roof above a six-inch insulated panel and heavy Douglas fir framing.
The cheerful kitchen carries out the all-wood theme. Oak cabinets, with a light-toned finish, and the rustic pine floors get a modern touch with Corian counters in a green and black granite pattern. Tiffany-style lamps add illumination in many rooms. From the acclaimed Seagrove potteries located near their home, Peggy acquired a number of pieces artfully placed throughout the house.
Instead of using drywall for some interiors, Tom asked a carpenter to provide the kind of old-fashioned wood beading that he recalled from his childhood home. "It was a 30-by-30 foot cabin and my brothers and I slept on an unheated porch year round, but I liked the feeling of the place." Before that home was demolished, Tom salvaged some of the corner cupboards that now look perfectly at home in the new house.
Outside, among the mountain oak and pine trees and the rocks, there's very little need for landscaping. A few shrubs were planted and encircled with the local stones, and nature takes care of the rest.
Completed after two dedicated years of planning and construction, the home might be called the ultimate log dream house. Neither Peggy nor Tom - - both of whom are still active in business - - is exactly in retirement, but they have time to enjoy every aspect of their log home. "I just love it," says Tom. And Peggy agrees, "We wanted a homey country place, and that's what we have."